Waste Management GPS Tracking
Integration-ready and globally scalable waste management GPS tracking devices designed for fleets, skip bins, portable toilets, waste, and more.
Waste Management GPS Tracking Solutions
Build a better GPS waste tracking solution with the largest portfolio of certified and integration-ready LPWAN asset tracking devices and the widest range of connectivity and location technology options.
With durable and ultra-rugged IP68 housing, game-changing battery life and battery monitoring, and discreet and simple installation, our GPS waste management devices can be seamlessly integrated into any function of your waste management solutions and are designed to withstand the toughest environments and applications.
Build a Better Waste Tracking Solution
From dumpster GPS tracking to GPS tracking garbage trucks, our range of reliable and robust tracking solutions can be leveraged at every step of your waste management process.
Improve Churn and Utilization
Waste management telematics gathered by a seamlessly integrated digital waste management tracking system can help your organization increase the utilization of your assets and reduce costs.
Reduce Theft
Reduce theft by increasing visibility through GPS tracking. Configure geofences, movement-alerts, after-hour alerts, recovery mode and more to keep track of mobile and stationary waste management assets.
Analyze and Optimize
Gain knowledge about the environmental impact of your waste management process by analyzing idle times and routes or by tracking waste items.
Plan Routes
Waste management trackers also provide detailed reports with data you can use to optimize the routes of your fleet with waste management fleet tracking.
Battery-Powered and Wired Waste Management Solutions
Select from our range of battery-powered asset tracking devices featuring over 10 years of battery life to track and manage assets that do not have a power source, such as dumpsters, skip bins, containers, hazardous waste, and more. We also offer comprehensive waste equipment monitoring, GPS fleet tracking and management and In-Vehicle-Monitoring System solutions.
Rugged and Reliable
Our GPS waste management devices are designed to withstand the toughest environments with unique features that deliver essential data for waste container monitoring. Rugged weatherproofing ensures that our devices withstand any elemental encounters and extreme temperatures and our off-the shelf-batteries with built-in monitoring ensure that your GPS in solid waste management data is continuous and reliable.
Highly precise GNSS positioning systems enhance accuracy and special features such as impact detection, flexible configuration, movement-based location updates, and sleep mode ensure that your business can track the exact data you need to enhance your business model with GPS tracked waste disposal services. Our tracking devices are simple to install with a diversity of methods and are small and discreet for covertly securing your waste disposal products and assets.
Waste Management GPS Tracking Solutions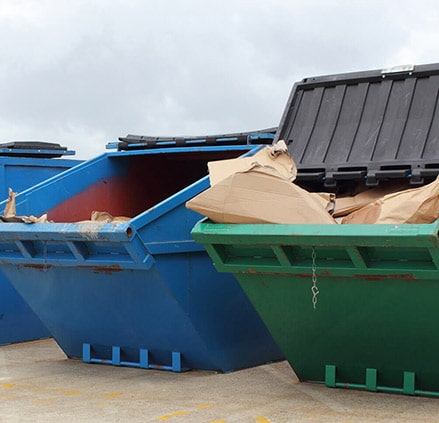 Containers, Dumpsters & Bins
Covertly install long-life battery-powered GPS asset tracking devices on containers, dumpsters, and bins to monitor location and movement. Our dumpster and skip bin tracking devices can provide near real-time movement alerts if assets move when they shouldn't. Our waste management devices easily integrate into tracking systems to optimize collection routes, as well as to manage and monitor movement.
Waste Management Fleet & Equipment Tracking
Fleet and waste equipment management provides full visibility to on-site operations, from location and movement along routes, to actively collecting data on driver behaviors. Impact detection features provide real-time alerts when products, assets, or waste may have been involved in a traffic accident, abused, or misused.
Litter and Trash Tracking
Our battery-powered waste tracking devices can also be used to increase awareness of the environmental implications of litter and trash, with innovative testing and reporting that tracks how litter and waste moves in water systems and landscapes. Gathering this data tells a compelling story about the environmental impacts of littering, and underlines the importance of utilizing an effective waste management solution.
Electronic Waste Tracking
Waste management GPS tracking can also be leveraged to manage and protect the waste stream of electronic waste, so you can monitor the recycling journey and ensure that critical e-waste is recycled and disposed of properly.
Portable Toilets
Reduce theft and damage of hired portable toilets across worksites with discreet battery-powered portable toilet GPS tracking devices that feature movement and impact detection, geofencing, and theft recovery.
Waste Management GPS Trackers
Waste Management Device Features

Multi-Techology Asset Tracking
Wide range of connectivity and location technology options including GNSS, WiFi Positioning, Cell Tower Positioning, Bluetooth® Low Energy, Iridium Satellite, and LoRaWAN® Geolocation for Indoor/Outdoor asset management.
Off-the-Shelf Batteries
Powered by off-the-shelf batteries with up to 10 years of battery life, featuring built-in battery life monitoring.

Rugged & Weatherproof
Ultra-rugged and waterproof IP68-rated device housings developed and tested to withstand rough environments, impact, fine dust, and brief submersion.

Periodic or Movement-Based
Receive location updates regularly throughout the day or only when movement occurs with smart adaptive tracking technology.

Theft Recovery
Our devices are equipped with Recovery Mode that, once activated, switches to real-time tracking in case of loss, theft, or unauthorized use, so you can quickly and efficiently recover your assets.

Sleep Mode
Stationary devices enter sleep mode, switching the update rate to only once per day until movement occurs to conserve battery life and optimize data usage.
Impact Detection
Receive impact-detection alerts when waste products are involved in accidents, abused, or misused.

Run Hour Monitoring
Capture run hours based on movement to understand and optimize utilization of waste products.
Global Support
Experienced support engineers for hardware, software, configuration, and integration guidance.

Easy Install
Multiple installation options for covertly securing devices to waste products with screws, bolts, cable ties, rivets, and more.
Flexible Configuration
Configure device parameters such as heartbeat rate, movement and accelerometer settings, and more to fit any tracking application.

Global Connectivity
Cellular (2G, 4G LTE-M / NB-IoT) LoRaWAN®, Sigfox and Bluetooth® Tracking Solutions.
Let's Get Started
Submit the form below to get in touch with a Digital Matter representative from your region.


Information on becoming a Digital Matter Partner.

Information on pricing, availability, and proof of concept.

Guidance on selecting the right products for your application.