Vehicle GPS Tracking Devices
Track, monitor and recover vehicles with our range of integration-ready and globally scalable Vehicle GPS Tracking Devices.
Stolen Vehicle Recovery Solutions
From plug-and-play vehicle GPS tracking devices that fit existing OBD ports to more advanced hardwired devices: Track the vehicles that drive your business with our versatile range of vehicle location tracking devices.
Real-time vehicle tracking technology allows your business to optimize the management of your fleet. Critical data insights into driver behavior — monitoring speed, acceleration, braking, and more — to accidents and roll-over detection provide a detailed perspective of the operations of your fleet.
Capture Run Hours
Cut costs with high-precision GNSS, real-time tracking, and run-hour monitoring to optimize vehicle utilization.
Preventative Maintenance
Proactive preventative maintenance alerts allow your business to prioritize and optimize maintenance schedules to reduce downtime and repair costs.
Theft Recovery
Increase security with GPS tracking systems for trucks and commercial vehicle fleets that track with Recovery Mode in the event of loss or theft. Several of our GPS tracking devices are equipped with immobilization options to safely and remotely disable assets and vehicles in the case of unauthorized trips and theft.
Improve Logbooking
Reduce stressful or inaccurate manual logbooks by utilizing high precision GPS with flexible configuration, run hour monitoring, and periodic or movement-based monitoring, all while resting assured that your digital data is protected with Military-level AES-256 Encryption.
Battery-Powered and Wired Vehicle Tracking Devices
Our devices are engineered and manufactured to provide the best, most rugged tracking system for vehicles. Installation is simple and discreet so your overall GPS tracking system can be integrated into a full fleet easily and covertly. Opt for a completely wire-free vehicle tracking solution with our range of battery-powered asset tracking devices featuring over 10 years of battery life.
We also offer plug-and-play OBDII devices and robust wired tracking devices with I/O's for advanced fleet management, equipment monitoring, IVMS, and more.
Vehicle GPS Tracking Devices
Commercial Vehicle GPS Tracking Device Features
Real-Time Fleet Tracking
Vehicle GPS tracking devices remain continuously connected while on the move for real-time location tracking.

Theft Recovery
Switch to Recovery Mode in the case of theft or loss to activate live-tracking at 30 second intervals for vehicle retrieval.
Driver Safety & Behavior
Monitor speeding, harsh acceleration, braking, cornering, and more to improve safety and prevent unnecessary wear on vehicles.
Accident & Rollover Detection
Configure accident and rollover alerts triggered by extreme changes in velocity and orientation of vehicles or equipment.

Run Hour Monitoring
Calculate run hours and distance travelled (odometer) to understand and optimize vehicle utilization.
Preventative Maintenance
Set proactive maintenance reminders based on distance traveled to reduce trailer downtime and repair costs.
Global Support
Experienced support engineers for hardware, software, configuration, and integration guidance.
Vehicle Tracking Device Applications
Digital Matter GPS tracking equipment for vehicles offers solutions for a diverse range of uses. Avoid time-consuming logbooks with vehicle tracking GPS devices that digitally gather and send data in easy-to-understand reports. Vehicle tracking by GPS improves dispatch and route efficiencies with accurate measurements of run hour monitoring and real-time location tracking.
Stolen vehicle recovery systems with GPS trackers for commercial vehicles improve security and peace of mind for fleet managers beyond daily operations. Tracking and optimizing fleets, routes, asset utilization, maintenance, and run time, increase workflow with predictable outcomes through reviewing digital data. Theft recovery solutions ensure that assets can be tracked and retrieved as quickly as possible to reduce loss and negative implications to your profitability. Moreso, theft recovery solutions can decrease the cost of insurance premiums as the risk of loss is minimized and the opportunity to recover a stolen or lost vehicle increases.
Trucks
From Towing trucks and tractor-trailers to work truck fleets in the field and on the street, truck tracking devices offer simple solutions to gathering critical data needed to optimize operations, lower costs, and provide a stolen vehicle recovery system.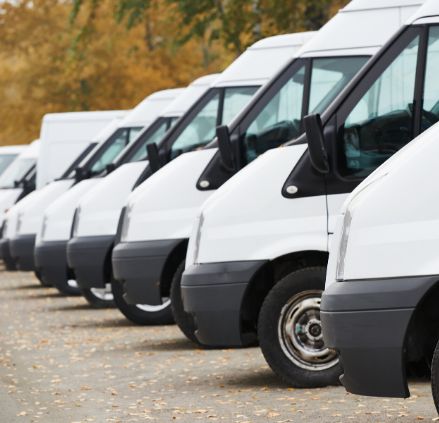 Vans
Increase access to reliable data with vehicle tracking GPS systems for vans. Accurately manage commercial work vans, shuttle vans, and rental vans in your fleet using GPS fleet trackers that pinpoint movement and locations to map out the use and optimization of assets.
Fleets
Scale your GPS tracking system for vehicles of every type within your fleet. From agricultural vehicles such as tractors and harvesters to industrial vehicles including graders, loaders, bulldozers, and forklifts, to commercial transportation vehicles such as busses, coaches, and shuttles.
Company Vehicles
GPS tracking for company vehicles ensure that your assets are being utilized and managed properly. From corporate fleets and commercial transportation to public utilities or private construction firms to ensure the safety and security of your assets with driver monitoring systems and theft recovery.
Fast and Flexible Integration
With an open and flexible payload structure, integrating Digital Matter vehicle GPS asset trackers into existing tracking systems, IoT platforms, or ERPs is faster and less complicated, allowing our partners to deploy or go to market faster with the latest IoT asset tracking technologies.
Configure and Customize
Optimize our existing firmware to best fit your specific application, with hundreds of OTA configurable parameters. Control reporting frequency, movement-based events, accelerometer sensitivity, I/Os, and much more, or work with our engineers to build out a fully custom solution.
Additional Vehicle Tracking Solutions
Related Case Studies
Asset Tracking in Zimbabwe with EzyTrack
Founded in 2009 in Harare, Zimbabwe, Ezytrack understands the unique solutions local residents and businesses require to protect their assets.
View Case Study
Let's Get Started
Submit the form below to get in touch with a Digital Matter representative from your region.


Information on becoming a Digital Matter Partner.

Information on pricing, availability, and proof of concept.

Guidance on selecting the right products for your application.